One of the most critical questions that the entire multifamily industry is hinging on is the ability for residents to make their monthly rent obligations. With unemployment numbers skyrocketing in recent weeks and more news of furloughs and layoffs seemingly every day, the ability for our residents to afford their rent comes into question. We are happy to report that as of today, across our portfolio of 8,900 multifamily units we are seeing identical collection rates compared to March. This shows that residents understand that they still must fulfill their obligations in order to maintain their credit and to remain in good standing. For residents who are experiencing hardship due to the impact of the coronavirus, our assets are offering the following to assist:
Confirming their hardship with written confirmation that they have lost their job or are experiencing some other hardship related to covid-19.
Providing information on employment opportunities in the area. FedEx, Amazon, Costco, Kroger and others have been hiring by the hundreds in our active markets. Also provide information on how to apply for unemployment insurance and other Government relief efforts.
If a resident cannot work or is unable to find a new job, we are offering residents payment plans where the resident is asked to pay what they can (if they can) with the ability to make up the missed rent from 6 months to the length of their lease without penalty. All changes and amendments to the lease are documented.
We have only had a handful of residents that have requested rent assistance, equaling around 2% of residents. At the time of this blog being published we are tracking collections at the same rate as we did in March, a tentatively good sign. With our average occupancy across the portfolio sitting at 95.5% and having achieved record portfolio NOI in March, we are confident our assets are as well-positioned as they could be to absorb further headwind risk. We are currently out performing the overall national market where collections are reported to be down 12% over the previous month according to data compiled by the NMHC.
We have an incredible amount of empathy for our residents who are experiencing hardship through no fault of their own. We see this as an opportunity to do the right thing and help others though this crisis by working with individuals on their unique circumstances.
While all this news is quite positive and has our team feeling more confident than we were, we believe that collections starting May 1st will be a more critical data point. Even for residents who were laid off, they were paid at least halfway through March if not throughout March. With certainty that the coronavirus shutdown will be with us at least for the next several weeks if not months, the real effects are yet to be seen.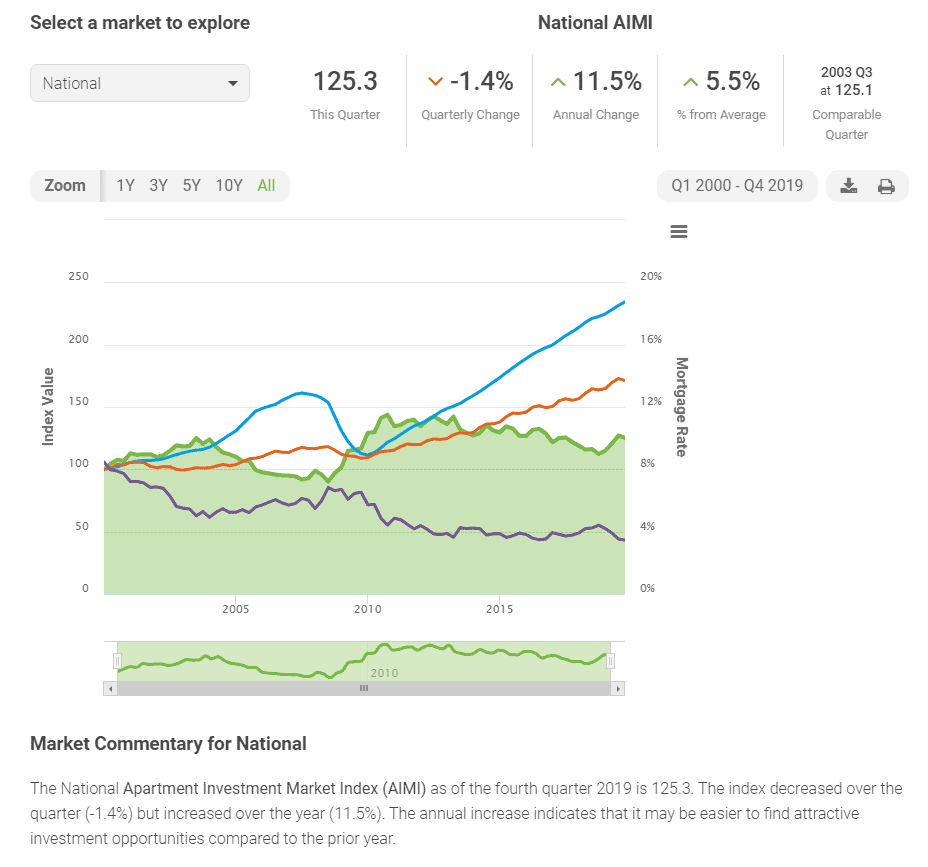 If the Federal Government can make good in a timely matter on their distribution of stimulus checks and unemployment insurance, then residents facing hardship should be able to sustain themselves through the crisis. If the crisis evolves into a deeper financial crisis and the Government is unable to assist residents and workers, we could see further downward pressure on collections and occupancy. The eventual realized downside will still be limited and correlated to the time it takes to get the economy back up and running to whatever new normal we will find ourselves in.
The fact is that we will emerge from this state of uncertainty; it is a matter of time. When that time comes, we will see continued performance from multifamily apartments. Fundamental supply and demand imbalances still remain, and with ever-increasing interest from investors, multifamily continues to have one of the best risk / return profiles of any asset class.
This post was originally published as part of our free weekly newsletter on the issues and ideas important to the multifamily real estate market. Click the button below to sign up. Please note: your email and information will NOT be shared outside our organization.