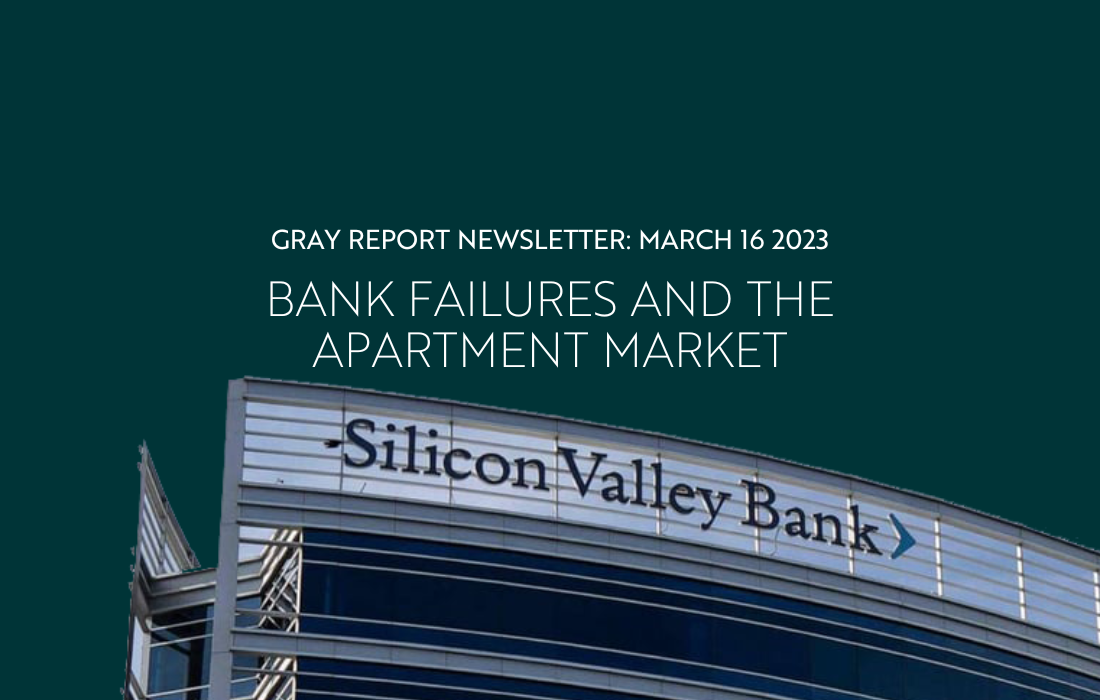 Silicon Valley Failure and the Multifamily Market
What Does a Bank Collapse Have to Do with Multifamily?
The recent collapse of Silicon Valley Bank is linked to the same misguided assumptions of persistent low interest rates that have contributed to the higher potential for distress in the multifamily market. Apartment owners with financing that was dependent on continued low interest rates are now increasingly vulnerable, and multifamily investors looking for a buying opportunity have long-awaited the moment when this potential for distressed properties would meaningfully intersect with market forces. While we have not reached this moment in the multifamily market, the bank failure illustrates the broader impacts of interest rate hikes throughout the economy and the magnitude of potential losses faced by those who acted on the incorrect assumption that rates would remain lower for longer.
Multifamily, the Nation, and the Economy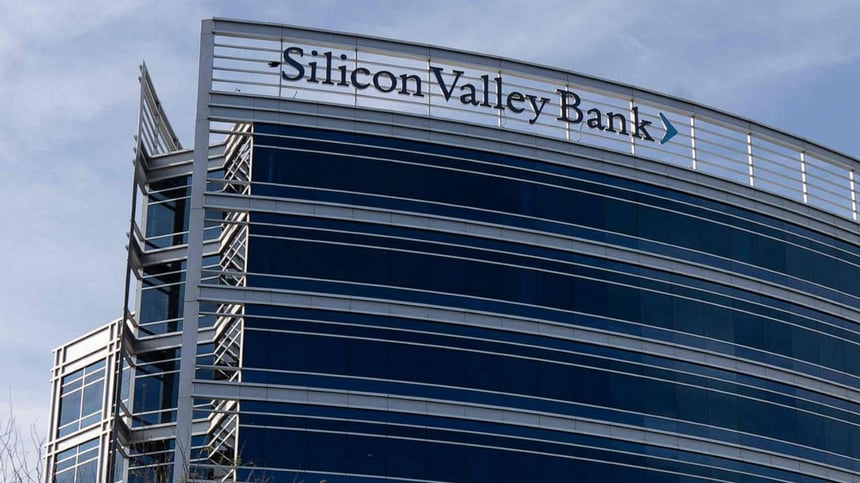 ​Banks Collapse Affecting Mortgage Rates, VC, PropTech
Via GlobeSt: "A drop in home mortgage rates, a pause (or even cut) by the Federal Reserve at its March 22 meeting, and the need to obtain new letters of credit are among the matters to ponder as commercial real estate companies and venture-capital groups sort through the fallout of the collapse of Silicon Valley Bank and Signature Bank."
Multifamily and the Housing Market

February 2023 National Multifamily Report
Via Yardi Matrix: Multifamily rents are in a holding pattern, with national monthly rent growth at zero—neither positive nor negative—at the close of the winter season, but Midwestern markets continue to show positive growth.
Multifamily Markets and Reports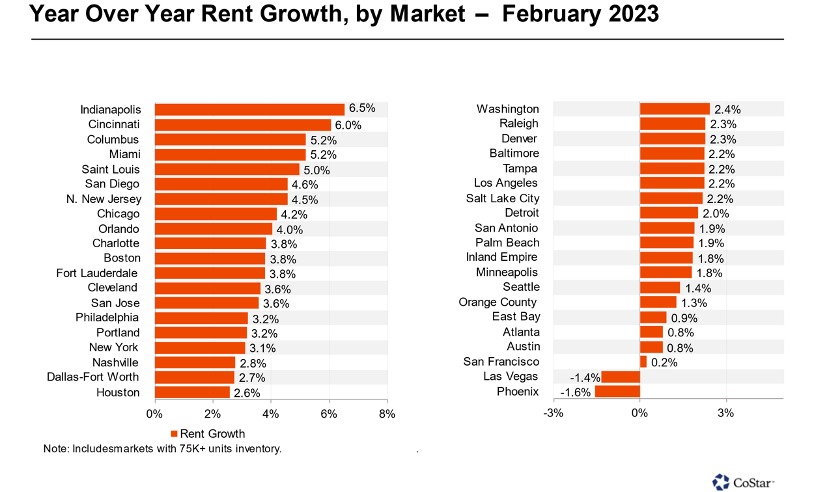 February 2023 Rent Growth Report
Via CoStar: For the third month in a row, Indianapolis came out on top with the largest market rent growth. Several other Midwest markets are also among the top 10 rent growth leaders as new supply additions pose less of an issue in these areas.
Commercial Real Estate and the Macro Economy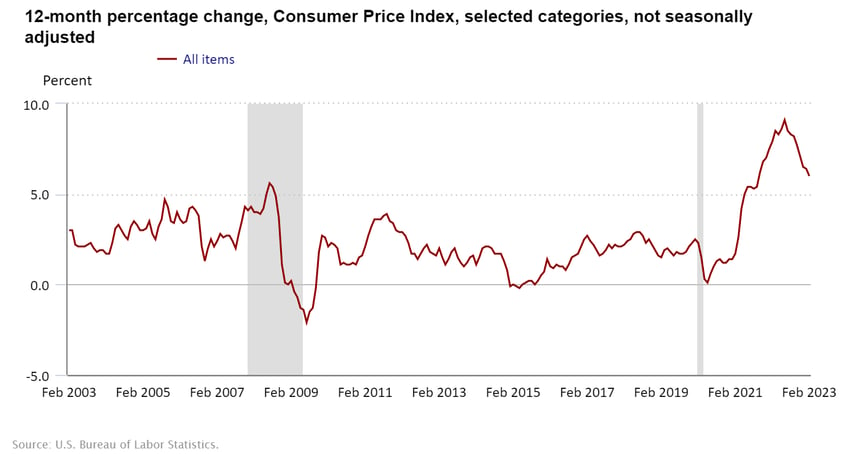 Consumer Price Index: February 2023
Via Bureau of Labor Statistics: The index for shelter was the largest contributor to the monthly all items increase, accounting for over 70 percent of the increase, with the indexes for food, recreation, and household furnishings and operations also contributing.
Other Real Estate News and Reports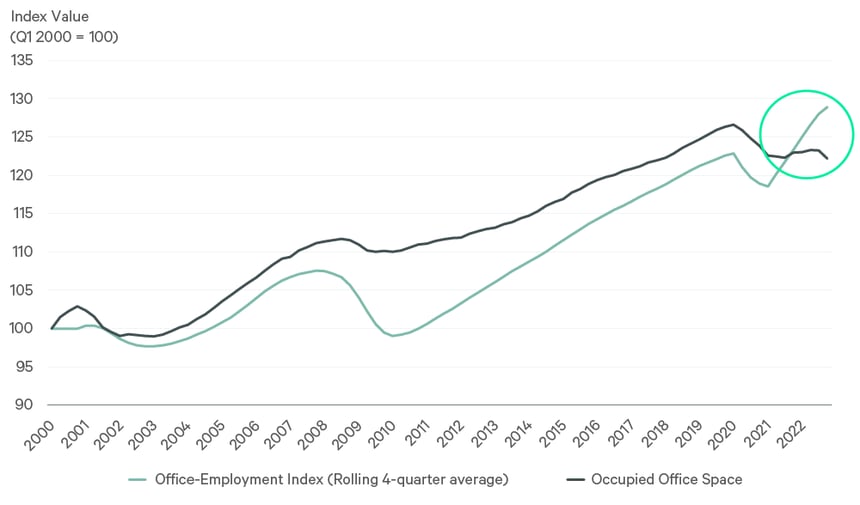 Disconnect Emerges Between Office Job Growth & Office Demand
Via CBRE: Although U.S. office-using employment has steadily increased during eight of the past 10 quarters and is 5.4% above pre-pandemic levels, occupied office space has remained relatively stagnant.