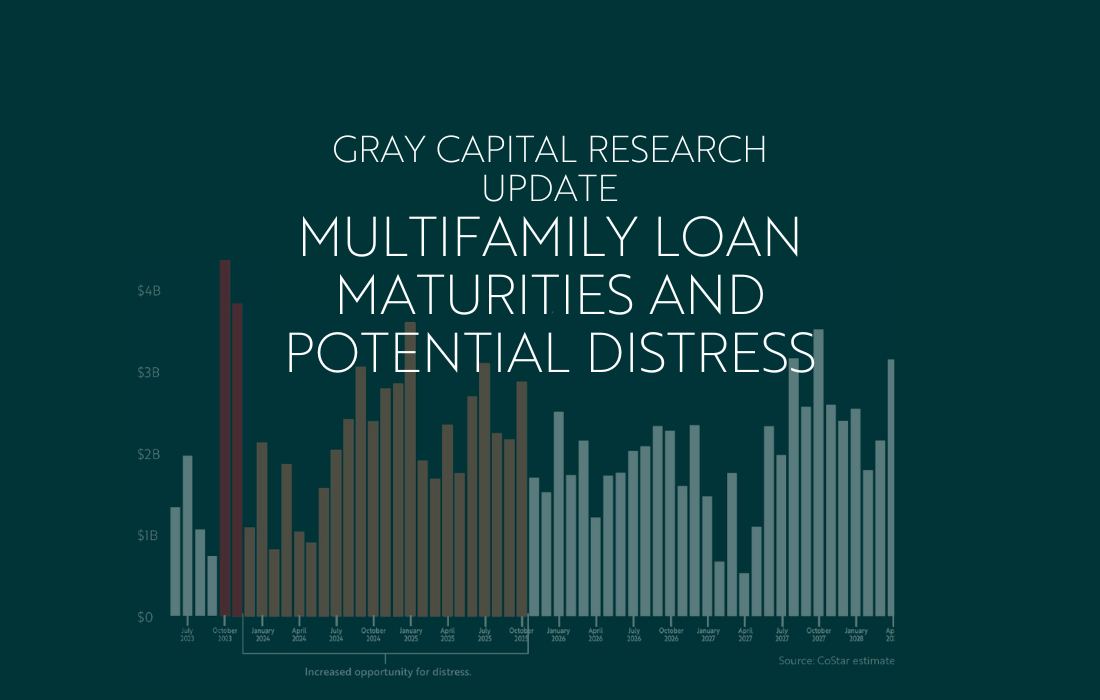 Gray Capital Releases New CRE Loan Maturity Report
The wall of commercial real estate debt maturities is quickly approaching, and the market
is already adjusting to greater distress and widespread price discovery.
INDIANAPOLIS, Sept. 27, 2023 /PRNewswire/ — Gray Capital, a family-owned and operated private equity real estate firm specializing in the strategic investment and acquisition of multifamily apartments in growing markets throughout the Midwest, today releases the second iteration of its report, Wave of Multifamily Loan Maturities Imminent.
Interest rate forecasts have increased sharply as 2023 has progressed, and Gray Capital projects further distress and increased investment opportunities catalyzed by the wall of loan maturities due in October 2023 and continuing through the end of 2024.
There is currently $1.9 trillion in outstanding multifamily mortgage debt, and bridge loans issued during 2021 are expected to come due in Q4 of this year. The report explores how multifamily borrowers will face refinancing and borrowing costs that will encourage sales at prices closer to buyers' expectations. This means that attractive investment opportunities are already emerging and will continue through 2024 for multifamily property owners to get ahead of further pricing declines.
Since Gray Capital's last quarterly analysis, longer-term interest rate projections have markedly increased, with the Federal Reserve increasing its 2024 Fed Funds rate projection from 4.6% to 5.1%. With interest rates at a 15-year high, they will not come down in time to prevent market distress. In addition to the burden of high interest rates, tight debt and low income growth further put pressure on multifamily borrowers. The report predicts that interest rates will either remain high due to continued economic growth and persistent inflation risk or result in a short-term Commercial Real Estate (CRE)-driven recession.
"The wave of multifamily loan maturities is imminent, and Gray Capital is ahead of the curve and prepared to see incredible opportunities for our partners to benefit," said Spencer Gray, CEO of Gray Capital. "We have been closely tracking the data on loan maturities throughout the year, and this analysis is invaluable for multifamily investors and owners to understand and leverage upcoming changes in this ever-evolving market."
For this report, Gray Capital has compiled data from Gray Capital National Rent Tracker, CoStar, Mortgage Bankers Association, and S&P/Case-Shiller Home Price Index to inform their expert insights into the future of the multifamily market. Gray Capital is an industry leader in aggregating and disseminating market trends through routine, transparent communication and insights on the multifamily investment landscape.
With its comprehensive data-driven market analysis, Gray Capital enables its investors to understand and leverage these forecasted conditions to accelerate portfolio growth and maximize returns. To learn more about how financial distress is already reshaping the multifamily market, download the full report here. Gray Capital publishes new insights and analysis on a quarterly basis. To learn more about Gray Capital, visit www.graycapitalllc.com or follow Gray Capital on LinkedIn, Instagram, and YouTube.