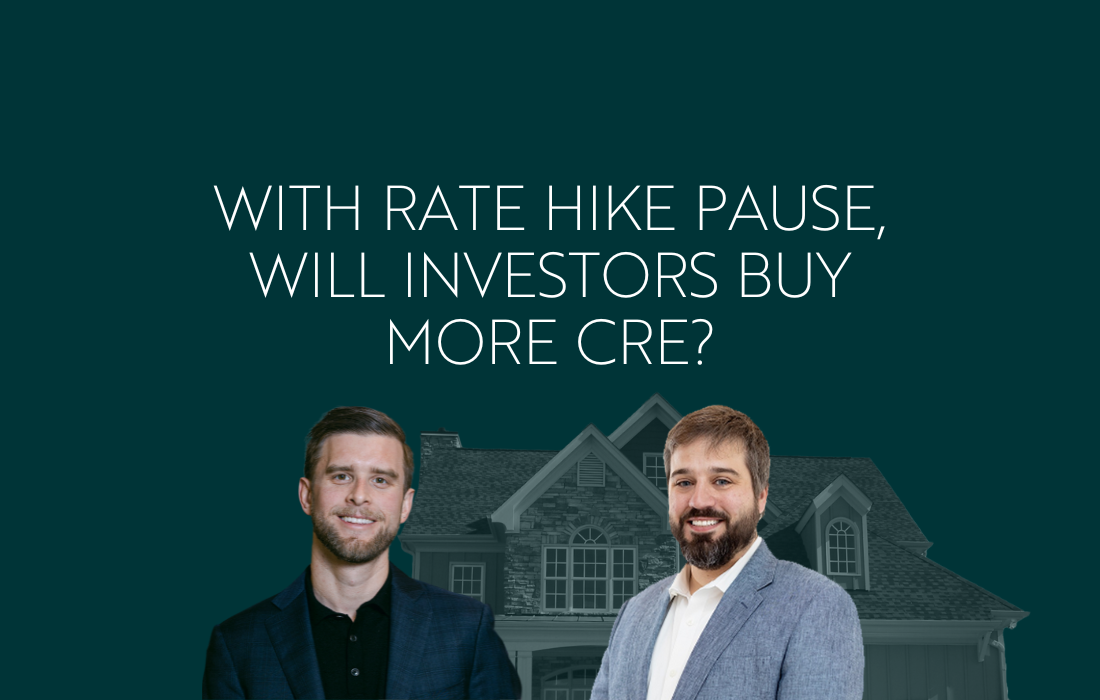 Gray Report Newsletter: November 2, 2023
With Rate Hike Pause, Will Investors Buy More CRE?
Despite several recent indicators of persistent inflation and greater economic activity, the Federal Reserve did not increase (or decrease) the federal funds rate this month. For CRE investors waiting to buy (or sell) properties, a rate hike pause may not be enough to encourage their re-entry into the market as investors expect further cap rate expansion in 2024. For multifamily specifically, confidence in longer-term asset performance has led to greater investor interest compared to other CRE sectors, but overall investment volume is lower than pre-pandemic averages.
Multifamily, the Nation, and the Economy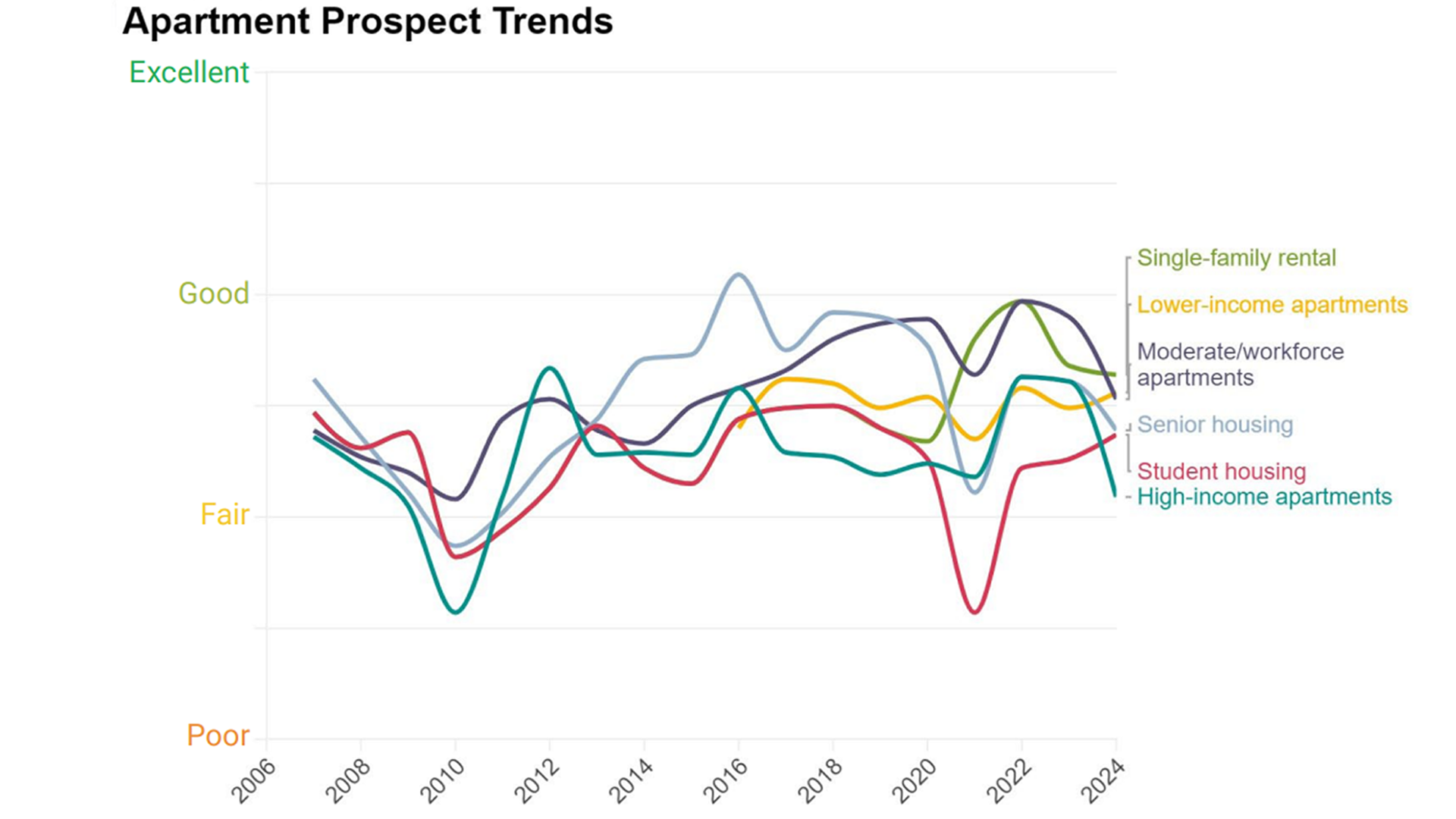 2024 Emerging Trends in Real Estate: A Slow "Reset" for CRE Returns and Expectations
Urban Land Institute: Urban Land Institute's in-depth, essential report on major real estate trends points to a more subdued CRE market amidst a "higher for longer" interest rate environment and economic uncertainty, but multifamily continues to be a favored asset type, with strong long-term prospects.
Multifamily Markets and Reports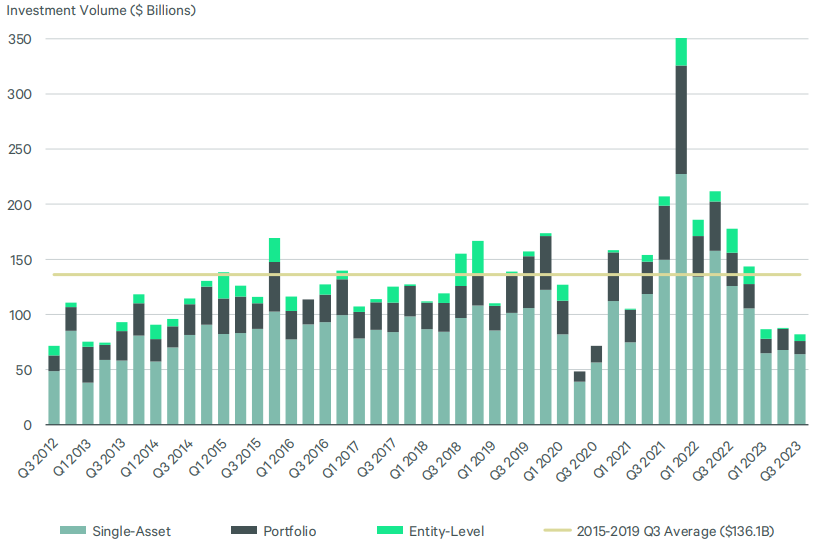 Q3 Capital Markets Report: CRE Investment Down 54%
Via CBRE: While transactions as a whole are down significantly, "private investors were net buyers in Q3, while institutional, REIT[,] and cross-border investors were net sellers."
Multifamily and the Housing Market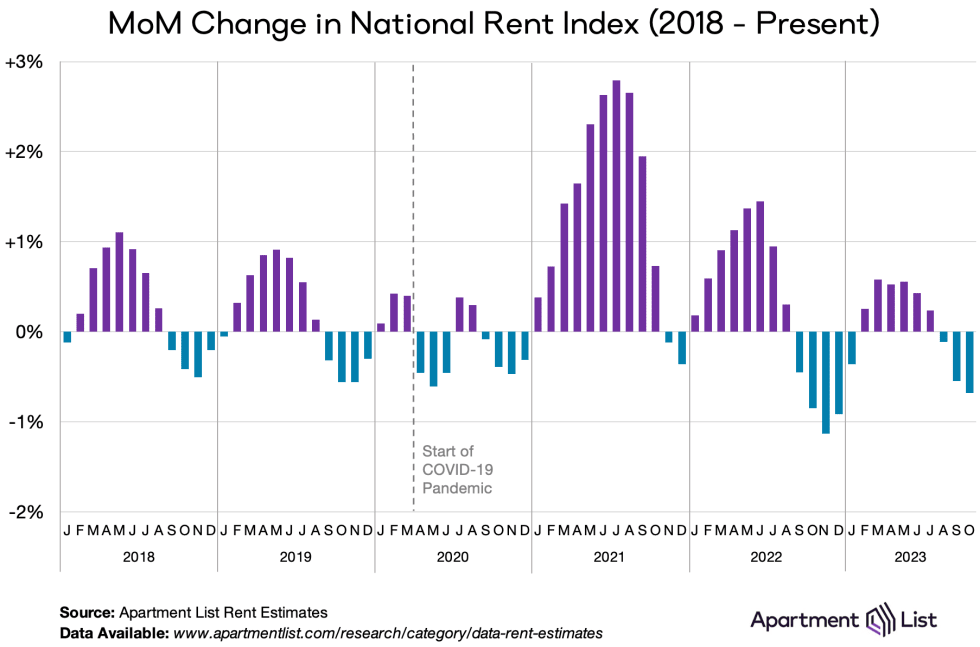 National Rent Report: 2023 Seasonal Trends Similar to 2022
Via Apartment List: Year-over-year rent growth is at -1.2%, with rents dropping a full 0.7% in October, suggesting that apartment rents could follow a similar cooling trend as they did in Q4 2022.
Commercial Real Estate and the Macro Economy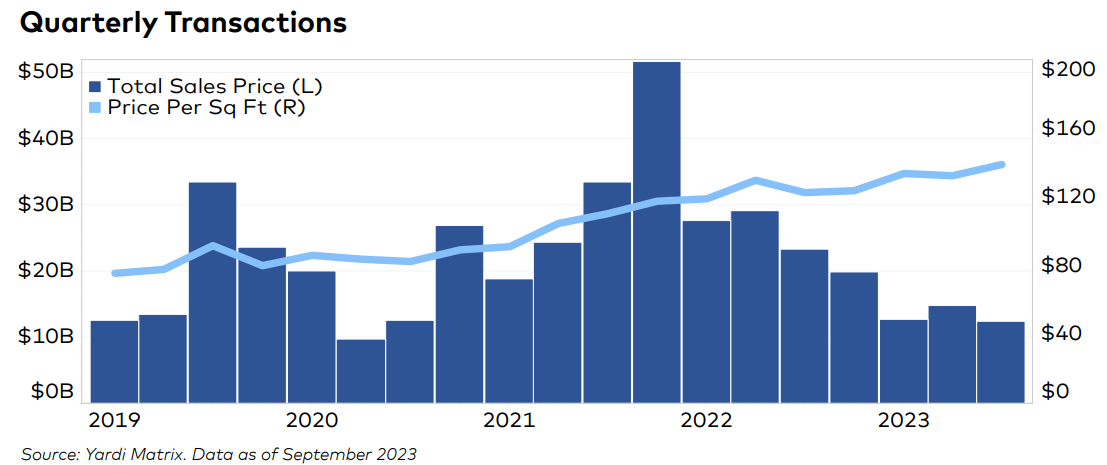 National Industrial Report, October 2023
Via Yardi Matrix: "The e-commerce boom that began in the early days of the pandemic helped send demand for industrial real estate to never-before-seen heights, but as growth has normalized, a rebalancing has taken shape."
Other Real Estate News and Reports

Retail National Report, October 2023
Via Institutional Property Advisors: "As the only commercial real estate segment to record vacancy compression over the 12-month period ending in June, the retail sector remains in a favorable position."