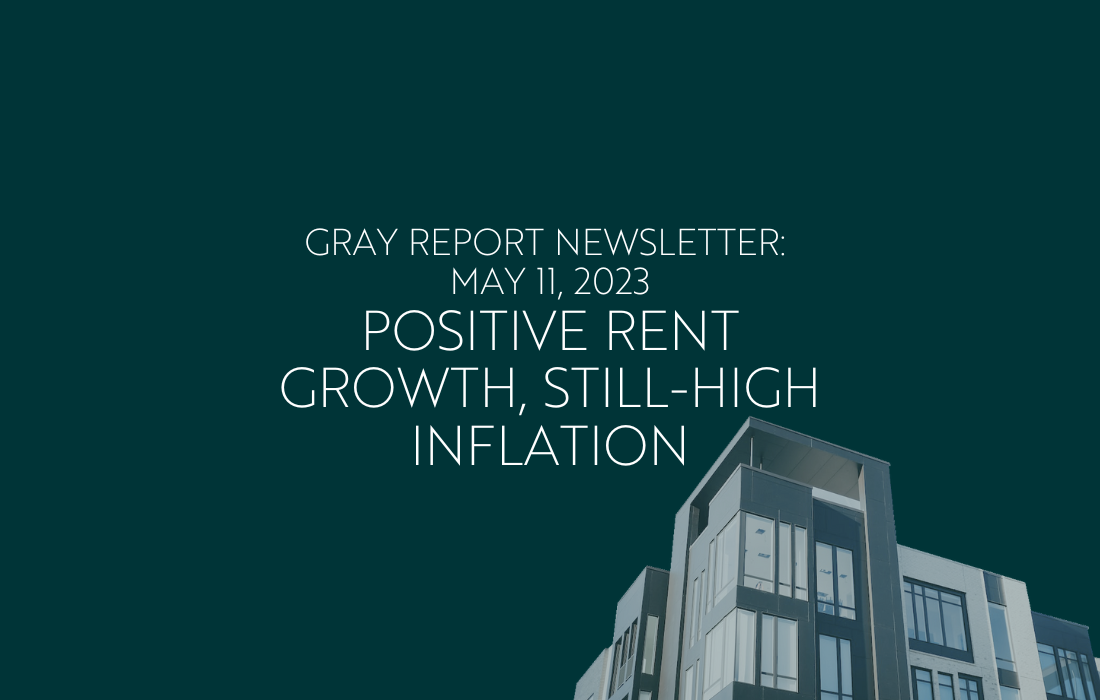 Gray Report Newsletter: May 11, 2023
New rent growth data cements a robust positive trend, with four consecutive months of increasing monthly rent growth. Rents in Q1 were still recovering from the cooldown in the apartment market in late 2022, but we are in clear positive territory now, and Q2 rent growth could easily exceed pre-pandemic averages if current trends continue. On the other hand, the rent growth measured in the Consumer Price Index, (0.6% month-over-month and 8.8% year-over-year), continues to misrepresent the current state of the market and are a large part of the high year-over-year inflation number (4.9%) and the elevated monthly inflation (0.4%, up from 0.1% the previous month).
Multifamily, the Nation, and the Economy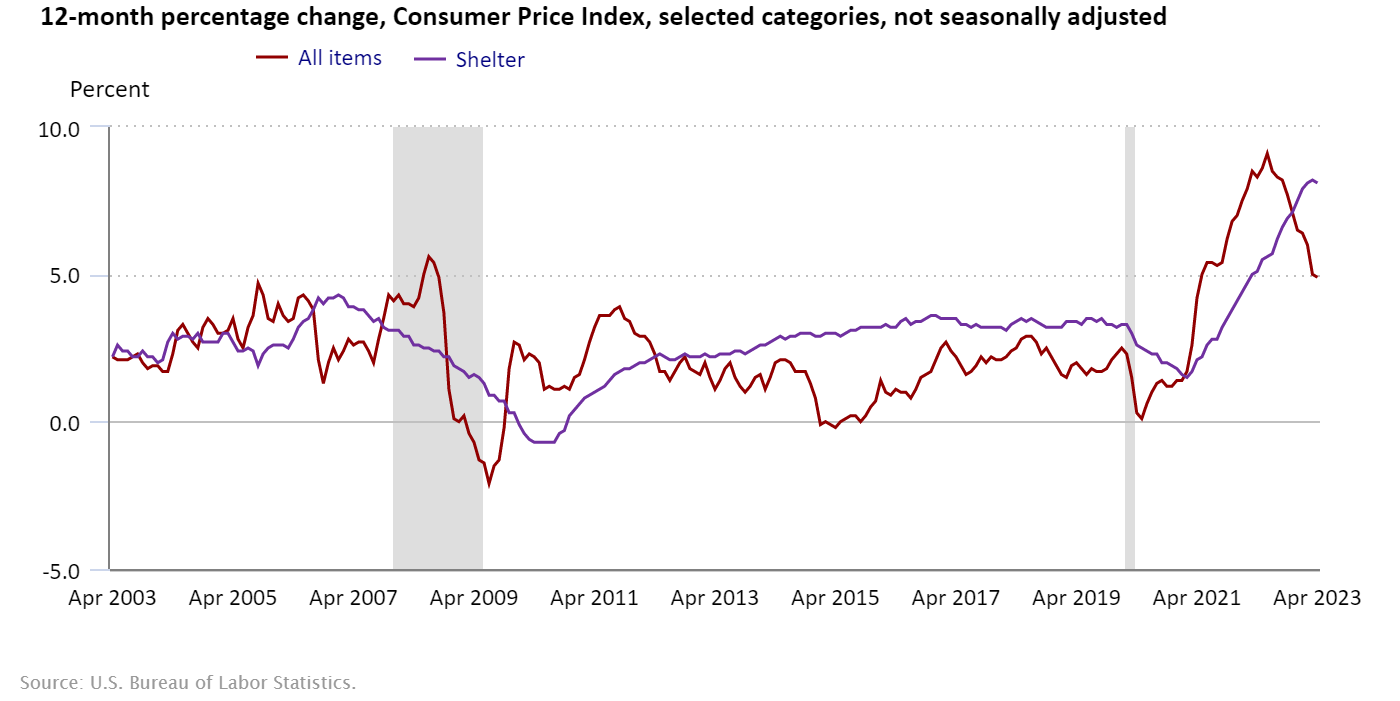 Consumer Price Index, April 2023
Via Bureau of Labor Statistics: The Consumer Price Index for All Urban Consumers (CPI-U) rose 0.4 percent in April on a seasonally adjusted basis, after increasing 0.1 percent in March, the U.S. Bureau of Labor Statistics reported today. Over the last 12 months, the all items index increased 4.9 percent before seasonal adjustment.
Multifamily and the Housing Market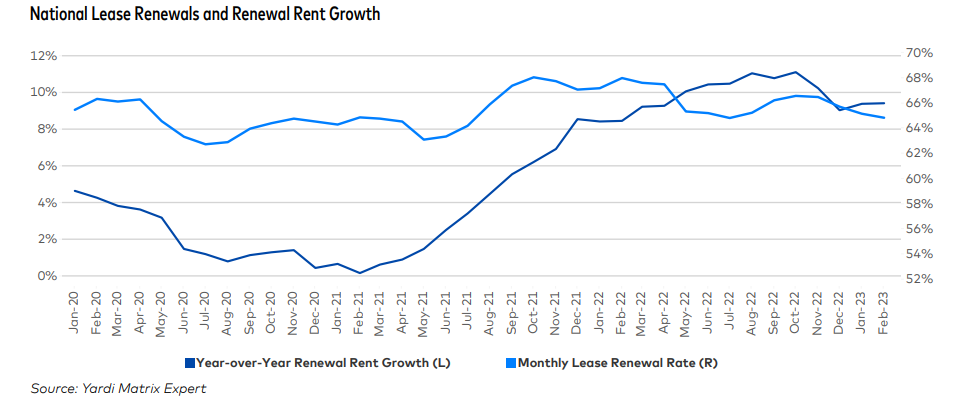 National Multifamily Report, April 2023
Via Yardi Matrix: Multifamily rent gains remain positive year-over year everywhere but the Desert West metros Phoenix and Las Vegas, and while there is a rotation among the top-performing markets, Indianapolis continues to lead for year-over-year rent growth.
Multifamily Markets and Reports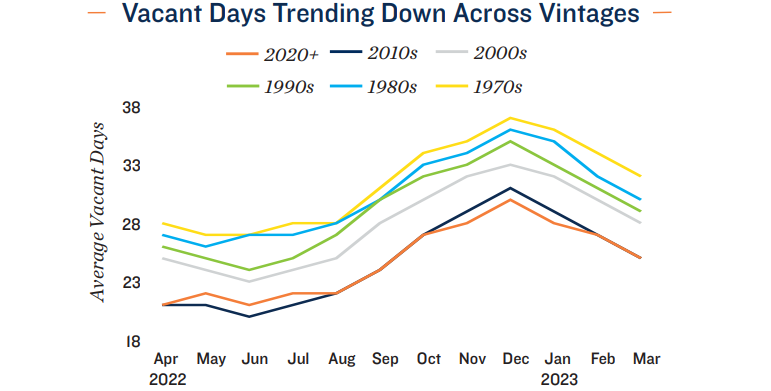 2Q 2023 Multifamily National Report
Via Marcus & Millichap: "Immense new supply over the remainder of this year will keep vacancy on an upward path near-term, while also lifting the average rent as new high-quality units come online. The potential for supply overhangs in select markets with large pipelines is likely, yet population and housing dynamics indicate that these deliveries are necessary longer-term."
Commercial Real Estate and the Macro Economy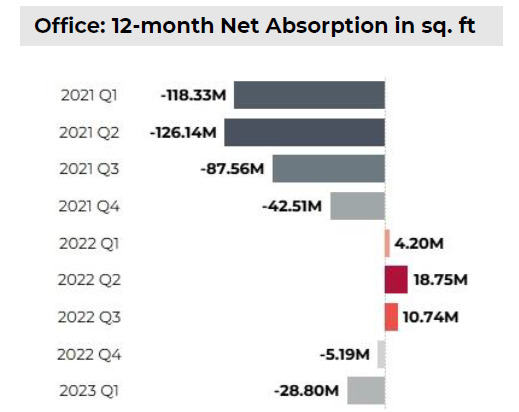 April 2023 Commercial Real Estate Market Insights
Via NAR: Continued troubling office performance (see graph above) contrasts with a resilient retail market and steadfast, strong performance in the industrial sector.
Other Real Estate News and Reports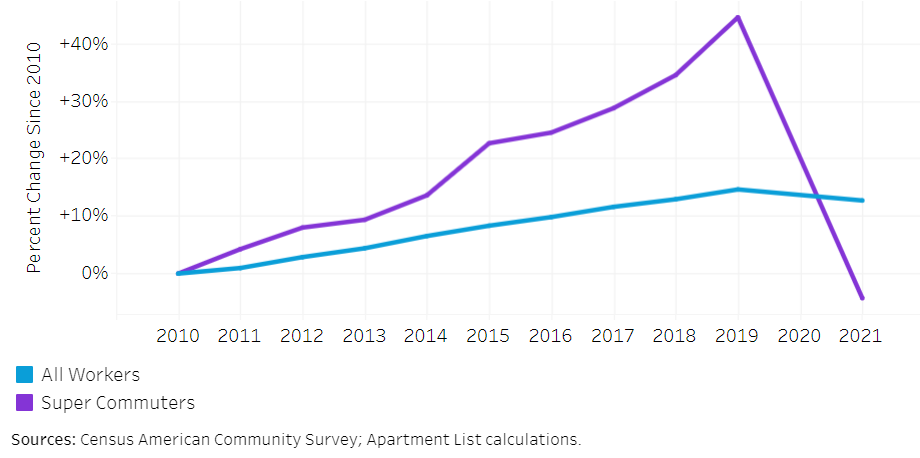 The Number of "Super Commuters" Has Fallen to the Lowest Level in Over a Decade
Via Apartment List: "This transformation in commuting patterns has an obvious source – the widespread adoption of remote work. The number of remote workers more than tripled from 2019 to 2021. In 2019, just 5.7 percent of Americans worked primarily from home, but by 2021, that share jumped to 17.9 percent."