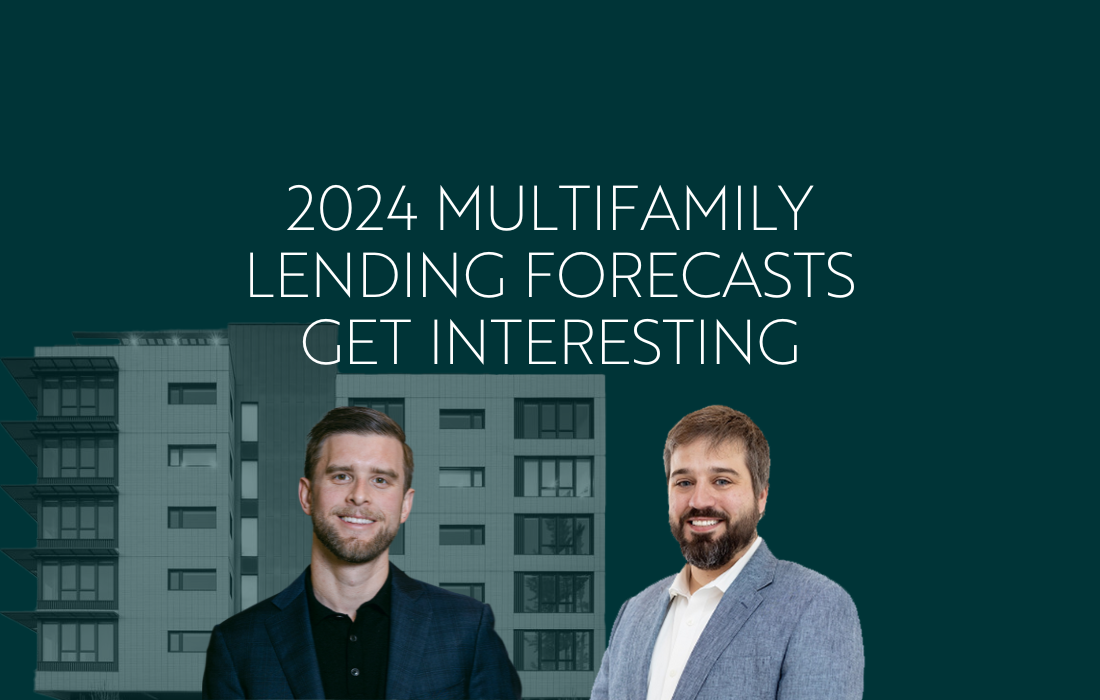 Gray Report Newsletter: November 9, 2023
With Rate Hike Pause, Will Investors Buy More CRE?
With recent data showing that multifamily loan originations are down 50% from last year (and down by 40% compared to pre-pandemic 2019 numbers), there is a growing discussion about the changing state of multifamily lending. The Fed's rate hike pause last week was followed by some forecasts of lower rates in 2024, but not enough to eliminate the challenges that multifamily borrowers are facing.
Multifamily, the Nation, and the Economy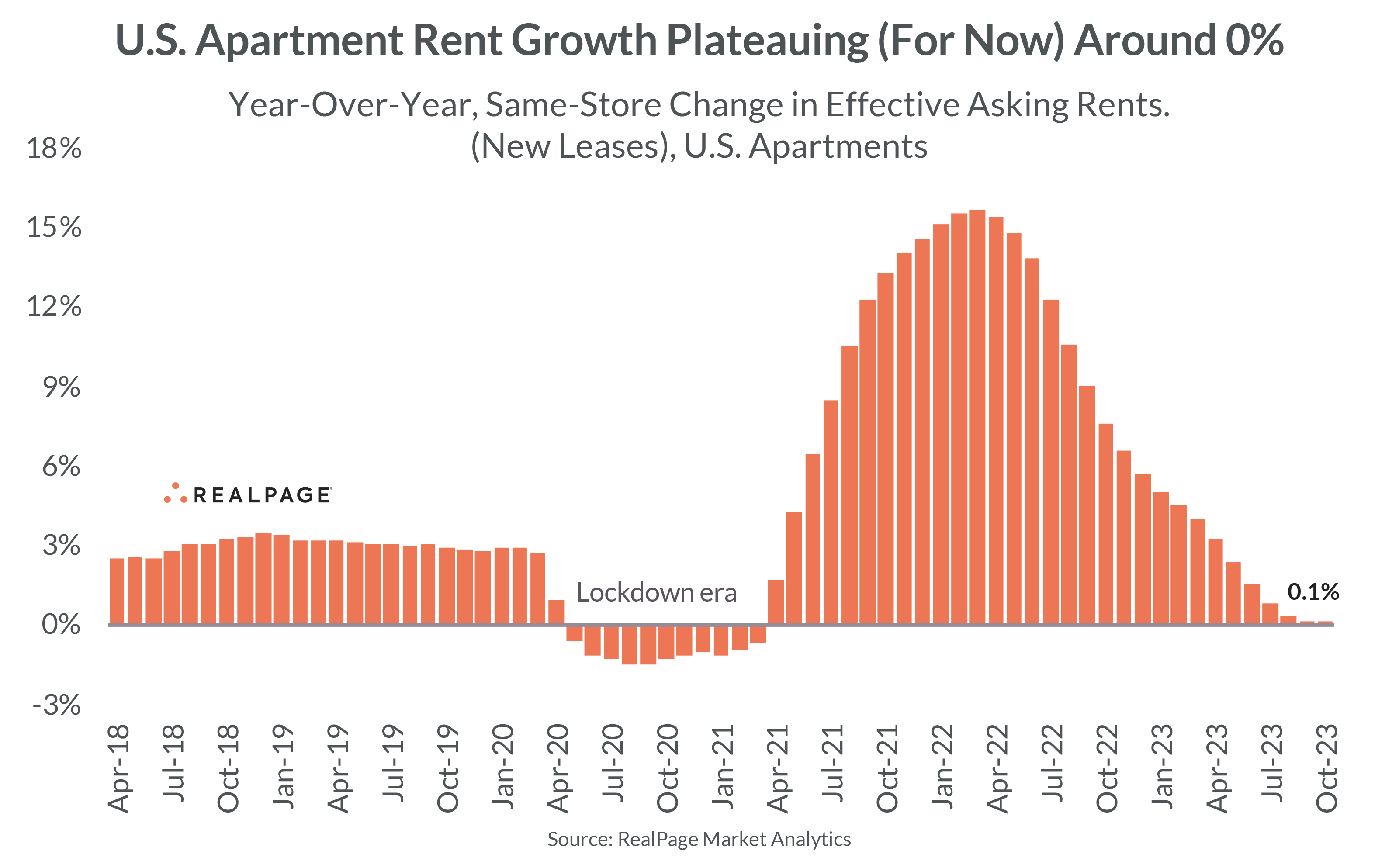 After Rapid Cooldown, Apartment Rents Plateau (For Now)
RealPage: "For the first time in three years, the year-over-year apartment rent growth trendline isn't moving like a roller coaster. National rent growth held steady at a flat 0.1% annually for a second consecutive month in October – pushing the pause button on what had been 18 straight months of cooling that followed a similar stretch of increases."
Multifamily Markets and Reports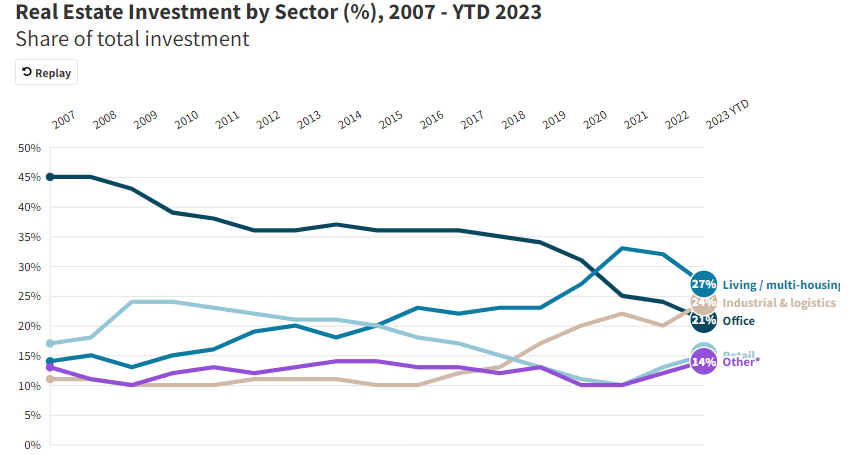 Multifamily Leads Foreign Investment Share
Via JLL: "Sentiment for logistics remains positive despite cooling fundamentals in the near-term and volumes declining globally, and [multifamily] remains the most active [real estate sector] globally year-to-date, although fundamentals are more muted and settling around long-term averages."
Multifamily and the Housing Market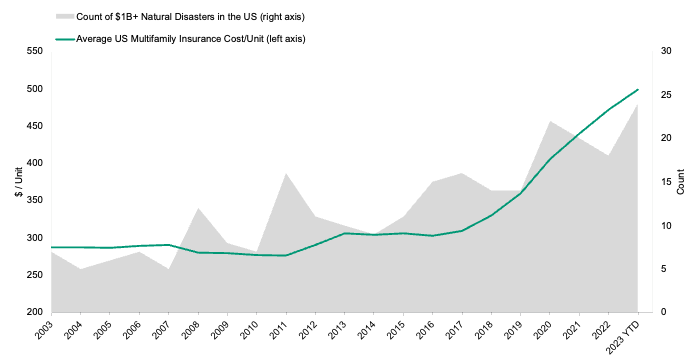 CRE Insurance Costs Soar to Record Highs
Via Moody's Analytics: "For multifamily properties average insurance premiums have reached almost $500 per unit per year, which is the highest Moody's Analytics has recorded, and about 71% above the average of $291 per unit per year in the 15 years between 2003 through 2017. The 2023 insurance costs mark a 51.2% increase from 2018 and a 5.7% increase from 2022."
Commercial Real Estate and the Macro Economy
Hotel State of the Union: November 2023
Via CBRE: Within CBRE's report on hotel real estate's "weakening demand" is an overview of the broader economy that includes an interest rate forecast for 2024 that is far more elevated than their forecast in June.
Other Real Estate News and Reports

Office Market Outlook, Q3 2023
Via Colliers: "The U.S. office vacancy rate stands at 16.7%, up 30 basis points from the second quarter and 140 basis points year-over-year[, and] Austin has the highest metro vacancy rate at 23.0%, followed by Houston (22.3%) and St. Louis (21.8%)."