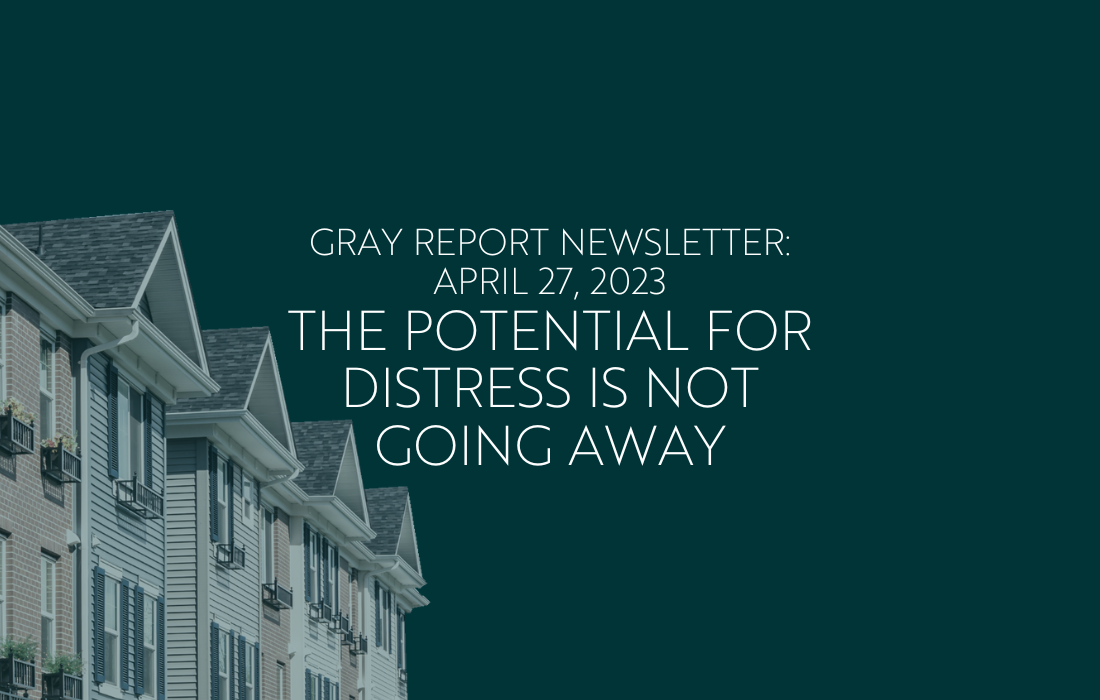 Gray Report Newsletter: April 27, 2023
The fundamentals in the apartment market continue to improve, but the sales environment for multifamily investment assets remains sluggish, with little movement in closing the still-wide bid-ask gap. Investors have doggedly sought out distressed apartment properties that are expected to emerge from high interest rate conditions, but these properties have yet to arrive in force. While there are some signs that the Federal Reserve will pause their interest rate hikes, rates are not expected to come down in time to eliminate the potential for distress, and well-prepared investors could find some very attractive buying opportunities in the latter half of this year.
Multifamily, the Nation, and the Economy
U.S. Apartment Market Rallies After 3+ Volatile Years
Via RealPage: "Early signs are pointing toward the return of more normal seasonality and stabilization, as net apartment demand rebounded back into positive territory in 2023's 1st quarter."
Multifamily and the Housing Market
Multifamily Urban and Suburban Submarket Performance Showing Similar Trends
Via Fannie Mae: From the report: "[W]e believe that the . . . urban submarket rebound will continue, especially as many employers are encouraging their workers to come into the office a few days a week and many renters appear to prefer living in more urban locations."
Multifamily Markets and Reports
March 2023 Rental Report: Midwest Surges as Western Markets Decline
Via Realtor.com: "Among the top 10 metros experiencing the fastest year-over-year growth, six of them are located in the Midwest: Indianapolis, IN (10.3%), Cincinnati, OH (9.6%), Milwaukee, WI (7.8%), St. Louis, MO (7.4%), Chicago, IL (6.8%) and Detroit, MI (6.6%)."
Commercial Real Estate and the Macro Economy
Via Colliers: "For the first time since 2016, major U.S. retailers opened more stores than they closed in 2022, according to Coresight Research . . . As a result, analysts suggest 2023 will be the "year of the store," with retailers hedging their bets on brick-and-mortar as an alternative option to shopping online."
Other Real Estate News and Reports
U.S. Office Sublease Availability Nearly Doubles Since Pandemic
Via CBRE: Office sublease space has nearly doubled in the U.S. since the COVID pandemic began in Q1 2020 and ushered in hybrid working arrangements.