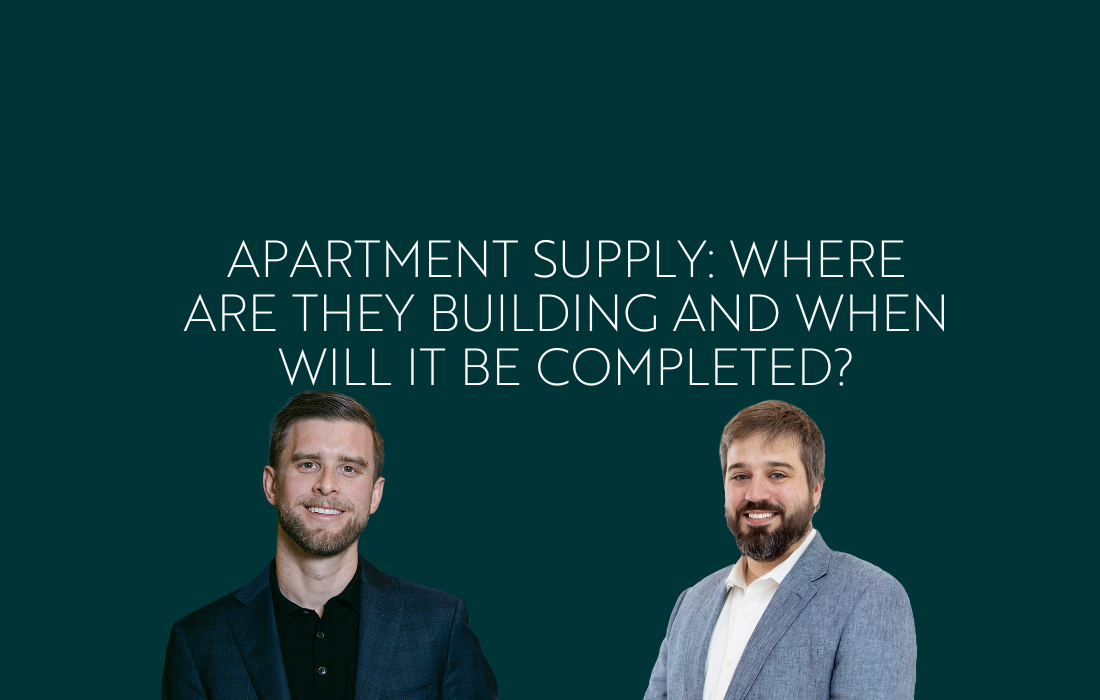 Apartment Supply: Where Are They Building and When Will It Be Completed?
A recent report from RealPage describes the enormous amount of apartments in construction currently, with information on some of the markets with record numbers of apartment construction activity.
RealPage "Record Apartment Construction Volumes Across the U.S." – https://www.realpage.com/analytics/record-apartment-construction-volumes-across-the-us/

Apartment construction is a topic that is relevant to specific locations more so, I think, than average rent growth trends, and apartment supply is more or less the starting point that you can use to project apartment demand and rent growth down the line.
The raw numbers of supply coming online can be somewhat useful, but it's most important to know the percentage of new supply coming online compared to existing supply.
The report starts out by noting the amount of construction going on nationwide, which at 917,000 and 4.9% of existing supply is the second-biggest volume that RealPage has measured for a single quarter and is bested only by the slightly larger construction volume of Q2 2022, 924,000.
After acknowledging the nationwide picture, the focus really shifts to the local relevance of incoming apartment supply, highlighting the specific markets with the most construction activity, either in terms of raw numbers or by percentage of existing supply.
They single out 16 markets with record units under construction, but it is very clear looking at the numbers that not all of these markets are in the same ballpark, both in terms of units under construction and in terms of percentage of supply.

Dallas leads the pack with 49,185 units that make up 7.4% of supply, but a close second is New York City, which has 44,900 units under construction making up only 2.3% of supply.
At the other end of this list when it comes to numbers of units, they have Columbus's 8,768 units and 4.5% of supply and Milwaukee's 5,755 and 3.6% of supply. They do not mention the percentage of supply for the other two markets on this list, but Kansas City's a little over half the size of Columbus and is getting just as many units, which could mean an increase of existing supply by 6 or more percent in Kansas City.
The other Midwestern market shown here, Indianapolis, is a little smaller than Columbus but has just under 3 quarters of units under construction. Again, I don't know the exact numbers of Kansas City OR Indianapolis apartment stocks, but if Indianapolis apartment stock as analogous to Columbus, then the units under construction in Indy make up about 3.3% of existing supply (below the national average of 4.9%, right?).

To return to my earlier point about the relevance of location, it's not only a market-by-market phenomenon, it's definitely relevant on the sub-market level and likely even smaller than that in some cases.
In some places, a newly-built apartment complex could draw apartment demand away from existing apartments in a 3 mile radius, but in other places, that radius could be ½ mile.
The national-level numbers from this report do help paint a picture of the apartment market's emergence out of the supply crunch that renters have keenly felt for the past two years, and from the perspective of an investor, this report underscores the importance of digging into the specifics of a prospective apartment investment, looking into how big of a competitive area it operates within and how many apartments are expected to be built in the near and medium term in that area.
Another thing to keep in mind that wasn't in the report itself is that these record numbers of apartments under construction will probably take longer to complete than they would have pre-pandemic. Many of the materials and labor issues of the pandemic have not been meaningfully resolved, and I'm not sure how a recessionary environment is going to affect construction timelines. My guess is that part of these record numbers of apartments under construction are due to a backlog of projects piling up with delayed completion dates, but it is undeniable that developers and apartment builders have been active and working through a huge number of challenges in the past few years.