Start the process here.
Get in touch with us. Schedule a call or send us a message.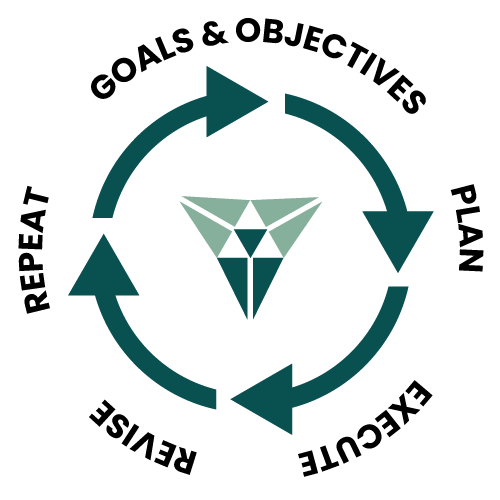 1. Goals and Objectives
Why do you want to invest in real estate?  It begins with a conversation about your financial goals and what you are looking to achieve.
Are you seeking a stable stream of tax sheltered income for retirement (or before)? Perhaps you are you seeking financial freedom?  To diversify your portfolio out of stocks and into hard assets like real estate?  Are you seeking a diversified approach to investing?
We tend to find it is usually a combination of factors, but everyone is different.  That's why we believe in taking an individualized, tailored approach.
2. Plan
Once we have determined your goals and objectives, Gray Capital will put together a custom plan designed to reach those goals by integrating a diversified portfolio of commercial real estate assets into your existing financial plan.
While we are not pure financial advisors, this strategy has been proven through generations and is utilized by family offices, high net worth individuals, and institutions. There is no better way to create, grow, and preserve wealth than through real estate. We will work with you to build a blue print of a portfolio that will act as a road map to achieve your investment goals.
3. Execute
With a road map in place, we will identify investment opportunities that match your allocation strategy.  Through our network of trusted, best in class operators and managers, and direct investment opportunities, we provide unique and rare projects that fit into each investors' portfolio.  Instead of a one-size-fits-all fund, only projects that fit investors allocation strategy will be recommended and all investors can choose whether or not to participate in each opportunity presented.  This is the philosophy of our founders family office and is the philosophy that we believe is right for our investor partners.
4. Revise
Times change.  Markets change.  Preferences change.
We believe that critical reflection of ones allocation strategy is an ongoing necessity to determine if the strategy undertaken is meeting the goals and objectives, and determining whether or not those goals and objectives have changed.  For some, after a goal of producing a certain amount of cash flow (hit their freedom number) has been achieved, ones strategy may shift to principle growth and preservation.
5. Repeat
If the goals and strategy have changed, revise the road map and proceed accordingly.
RESOURCES
Enter your email address below to download a FREE e-book containing investment case studies and an overview of Gray Capital and our strategy. 
LOCATION
Gray Capital LLC
1411 Roosevelt Avenue
Indianapolis, IN 46201