Introducing GrayReport.com: The Multifamily Intelligence Aggregator
Gray Capital is proud to announce the launch of a new website that brings together all of the most relevant and valuable information about the multifamily industry in one place: GrayReport.com.
The Gray Report Website fills a substantial gap within the world of multifamily and apartment investing—nowhere else allows investors and multifamily professionals access to the latest news in the industry on one page.
The Gray Report draws from hundreds of sources throughout the internet to provide individuals with the most important ideas and information from the multifamily markets: news articles from industry-specific sources, publications that cover the broader economy, podcasts, videos, and more.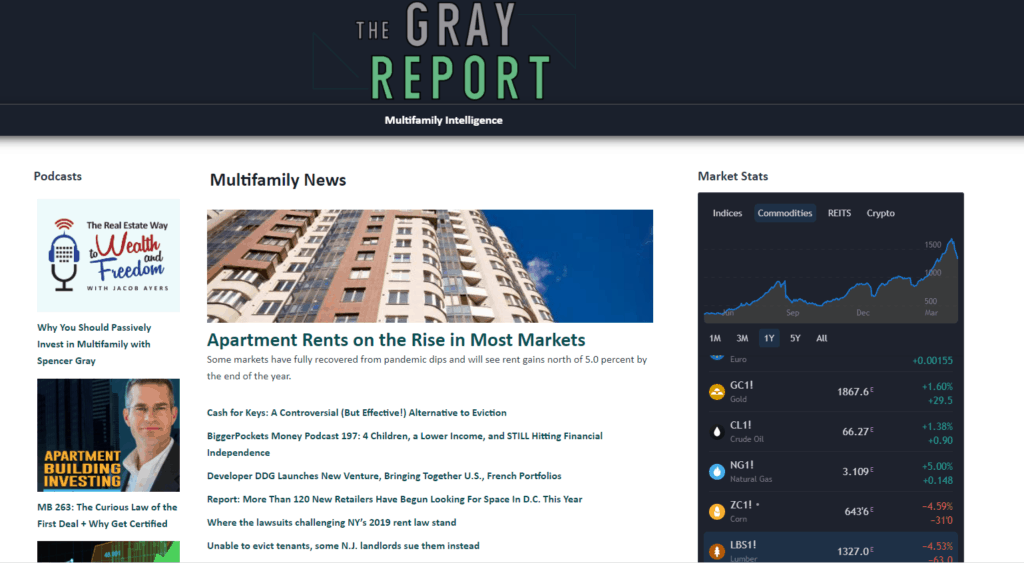 Gray Capital's new website continues their mission to bring relevant, actionable information to all levels of investors and others interested in multifamily real estate. Along with regular blog entries, videos, and webinars on important topics, Gray Capital publishes the free Gray Report Newsletter, a one-of-a-kind multifamily resource that provides thousands of subscribers with the latest industry reports, research, and current events every week. The research experience and newsgathering skills brought to bear on The Gray Report Newsletter have expanded even further through the Gray Report Website.
While the growing popularity of the newsletter has provided additional motivation—its readership more than doubling over the past five months—the launch of the Gray Report Website has been a goal for the company for quite some time:
Along with their work sharing the ideas, research, and news that drives the multifamily markets, Gray Capital is a growing multifamily syndication firm with over $900 million in commercial real estate projects to date. Interested in investing with Gray Capital? Click the button below to join the exclusive Gray Capital Investment Club, and if you're interested in weekly updates on the latest and most relevant multifamily news, research, and reports, sign up for our free newsletter with the button below.